Emergency Winter Services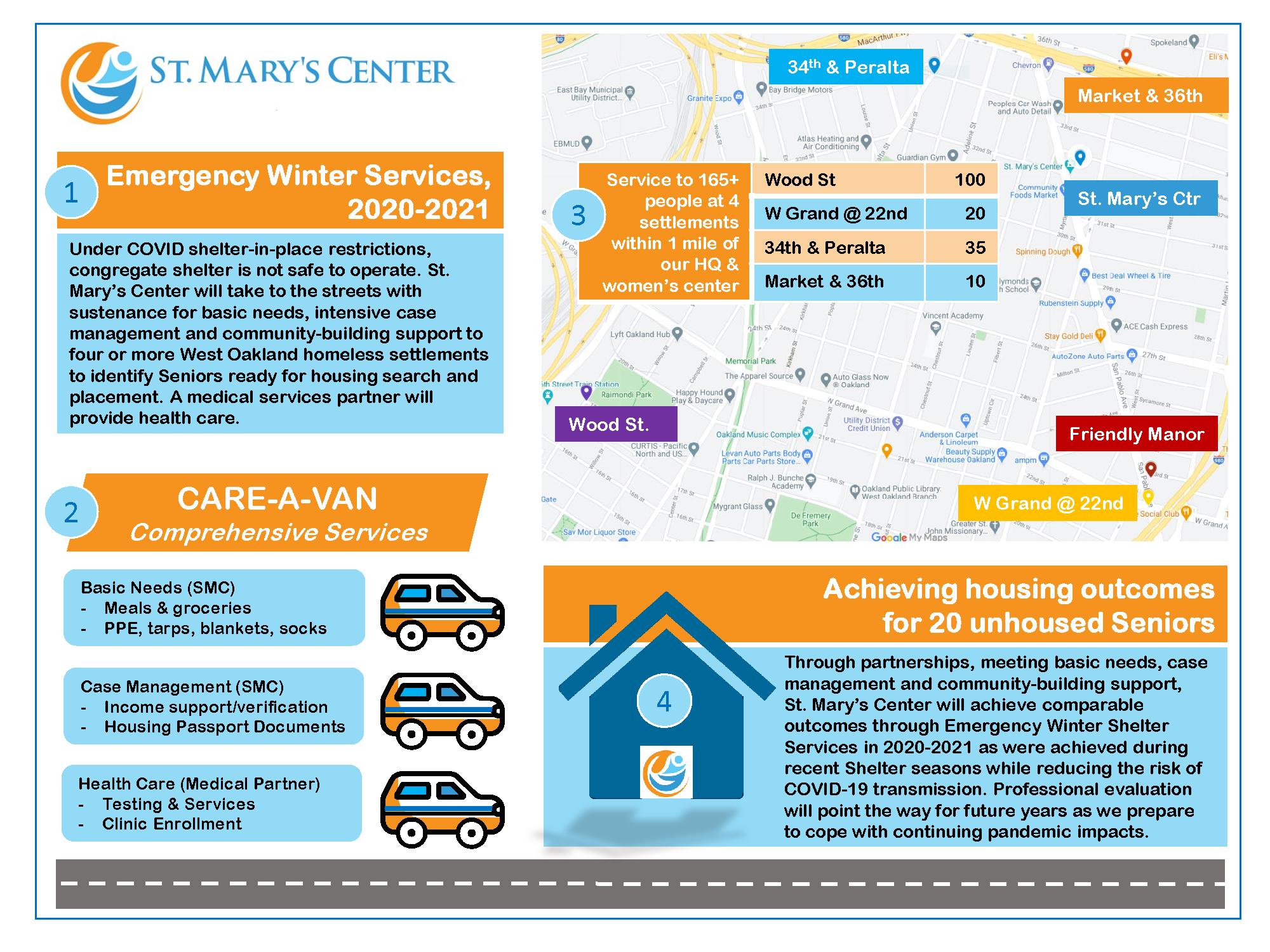 Achieving Housing Outcomes for 20 Unhoused Seniors
Goal and Outcomes
Provide critical social services to Seniors aged 55+ who are currently homeless on the streets of West Oakland, leading to outcomes of permanent housing for 20.
Context
St. Mary's Center typically operates an emergency winter shelter from Dec. 1 to Apr. 30, providing a safe space to sleep, hearty meals, showers and community for up to 100 Seniors in varied lengths of stay. Case managers connect Seniors to income supports, health care services, and other needed resources. Participation in our housing clinic leads to creation of a "Housing Passport" and readiness for placement in transitional or permanent housing. On average, 20 Seniors complete these steps each year.
Pilot Project
Through street outreach practices, we will identify, connect, assess and enroll 20 unhoused seniors who wish to move from homelessness into housing. We will deploy resources December 1 through April 30 and evaluate the program for insight into future programming.
Basic Needs
Food including prepared meals and groceries
Hygiene kits and PPE
Blankets and equipment to survive cold weather
Health Care Access
Linkages to medical insurance (incl. re-certification)
Linkages to street outreach medical services, COVID-19 testing and education, or to primary medical care
Follow-up where appropriate on medication safety
Support with prescriptions and appointments
Housing Access and Documentation
Coordinated Entry Assessments
Support in applying for or renewing financial entitlements and benefits
Document identification; collection, application/renewal of personal identification and collation to ensure that all paperwork necessary for applying for permanent housing and PSH options is completed.
Assessment and access to appropriate transitional housing opportunities
Weekly Housing Clinic with applications and access to housing lists, other senior living situations
Case management support to complete applications, attend interviews
Move-in preparation and resources
6-month follow-up