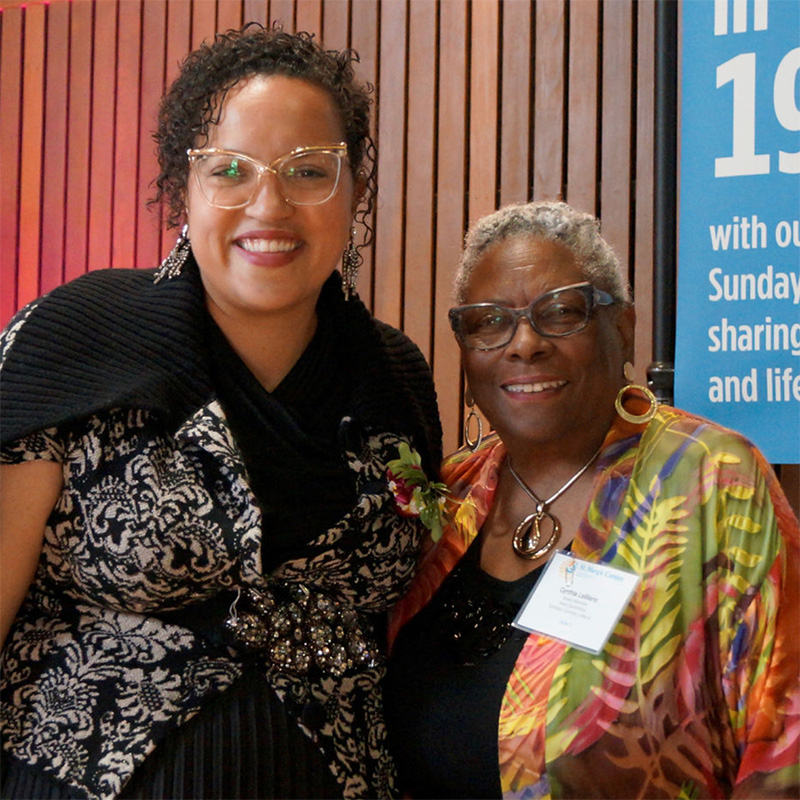 Mayor Sheng Thao, Board Chair Romi Hall, Executive Director Sharon Cornu
More than 300 supporters turned out in full force for our Golden Jubilee 50th Anniversary Gala signaling their commitment to creating a future of hope, healing, and justice for West Oakland Seniors and preschool families! Over 50 community members joined the Gala Host Committee, while another 44 sponsors donated generously.
The evening was a beautiful reunion filled with music, games, joyful tears, and connections with old friends. The event would not have been a success without the generous leadership of Board Member Cynthia LeBlanc and Alameda County Supervisor Keith Carson. We were honored by the presence of our Emcee, Claudine Wong of KTVU, along with several special guest appearances. Oakland Mayor Sheng Thao highlighted what St. Mary's Center's mission means to her as a person with lived experience of homelessness. The event culminated by raising $180,000 to sustain our vital services.
St. Mary's Center is grateful to our friends, old and new alike, who gave freely of their time, energy, and talents. Thanks to the overwhelming support, we are confident that our beloved community will continue to grow and thrive for another 50 years.
Gala photos and other highlights are available on our website. Please stay in touch and stay tuned for more information about next year's event! Contact Development@stmaryscenter.org.
Photo credit: Tomás Santos 
SMC Staff: Dwayne Jackson, Clinical Director Letteria Fletcher, Jarel Jacobs, Ja'Meisha Hood
Three members of the Council of Elders and a Senior who introduced us to The Jazz Therapists, our band for the Gala: Keith Arivnwine, Anne Bradley, Jesse Williams, Tomás Santo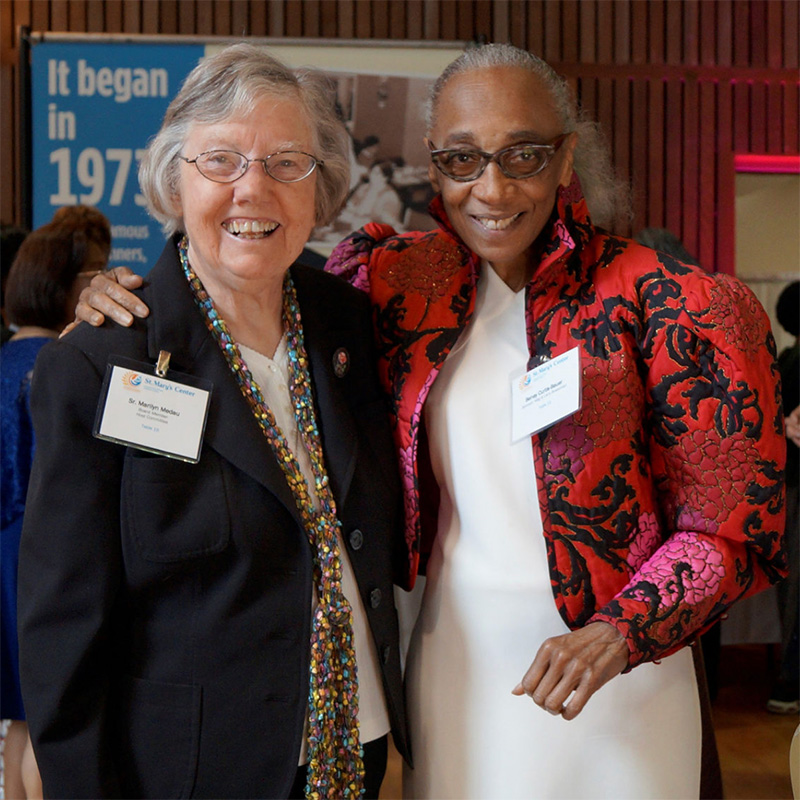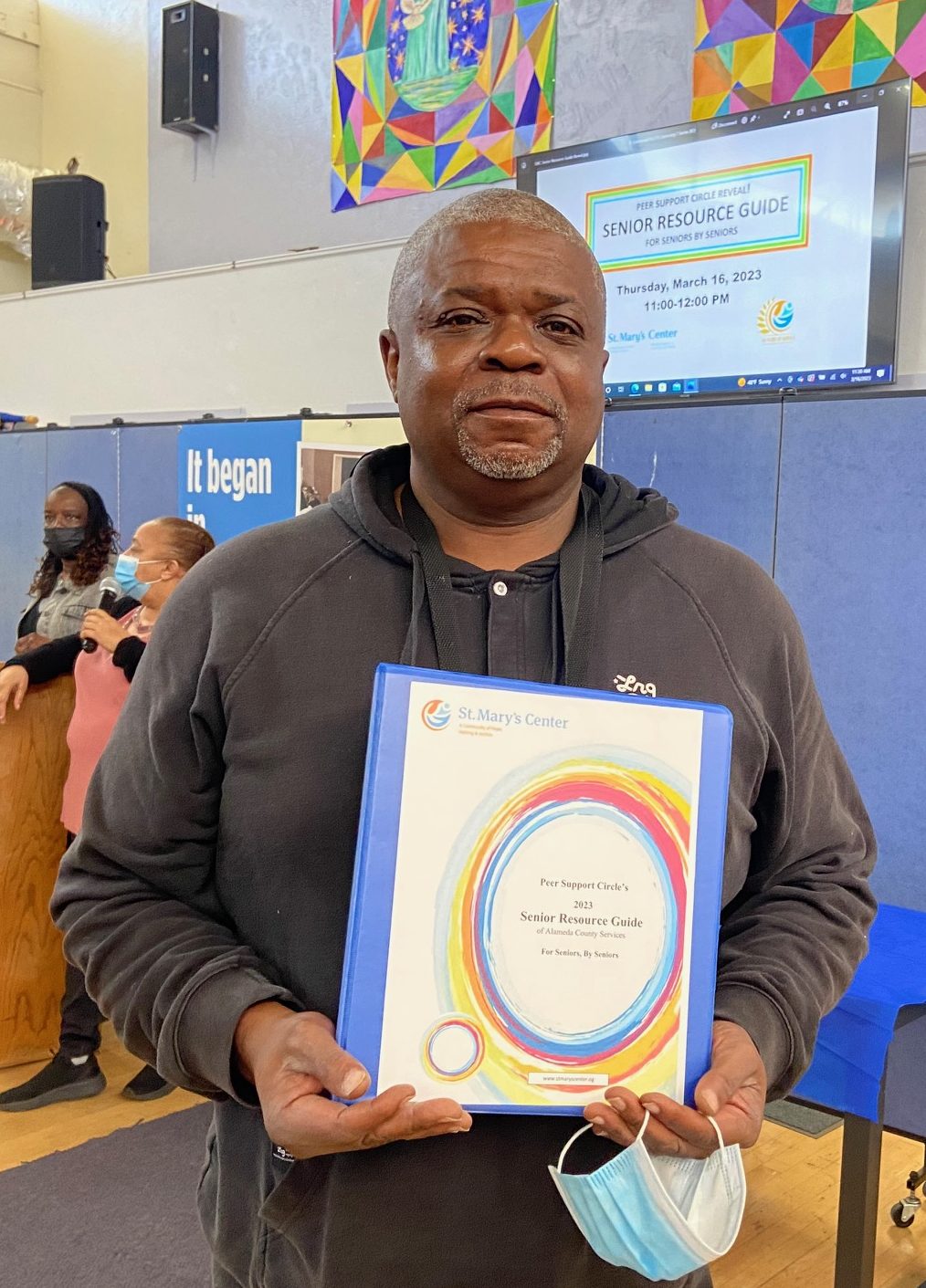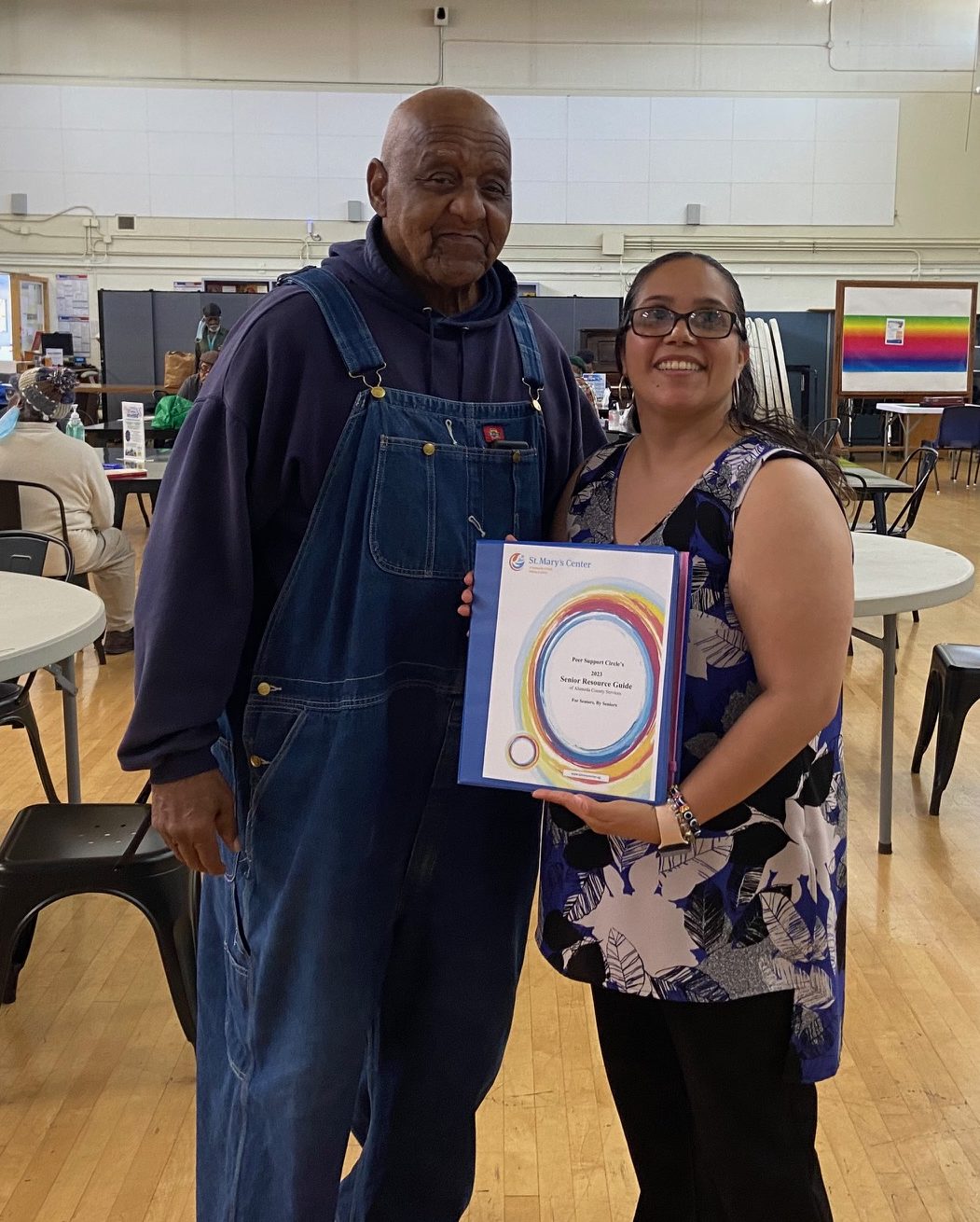 Sheila Gay, Ruby Rodriguez, Anne Bradley, Shirley Matthews, Sharon Cornu, Casey Farmer, Marlene Hurd, Arlene Hipp at Leadership Academy #3 Graduation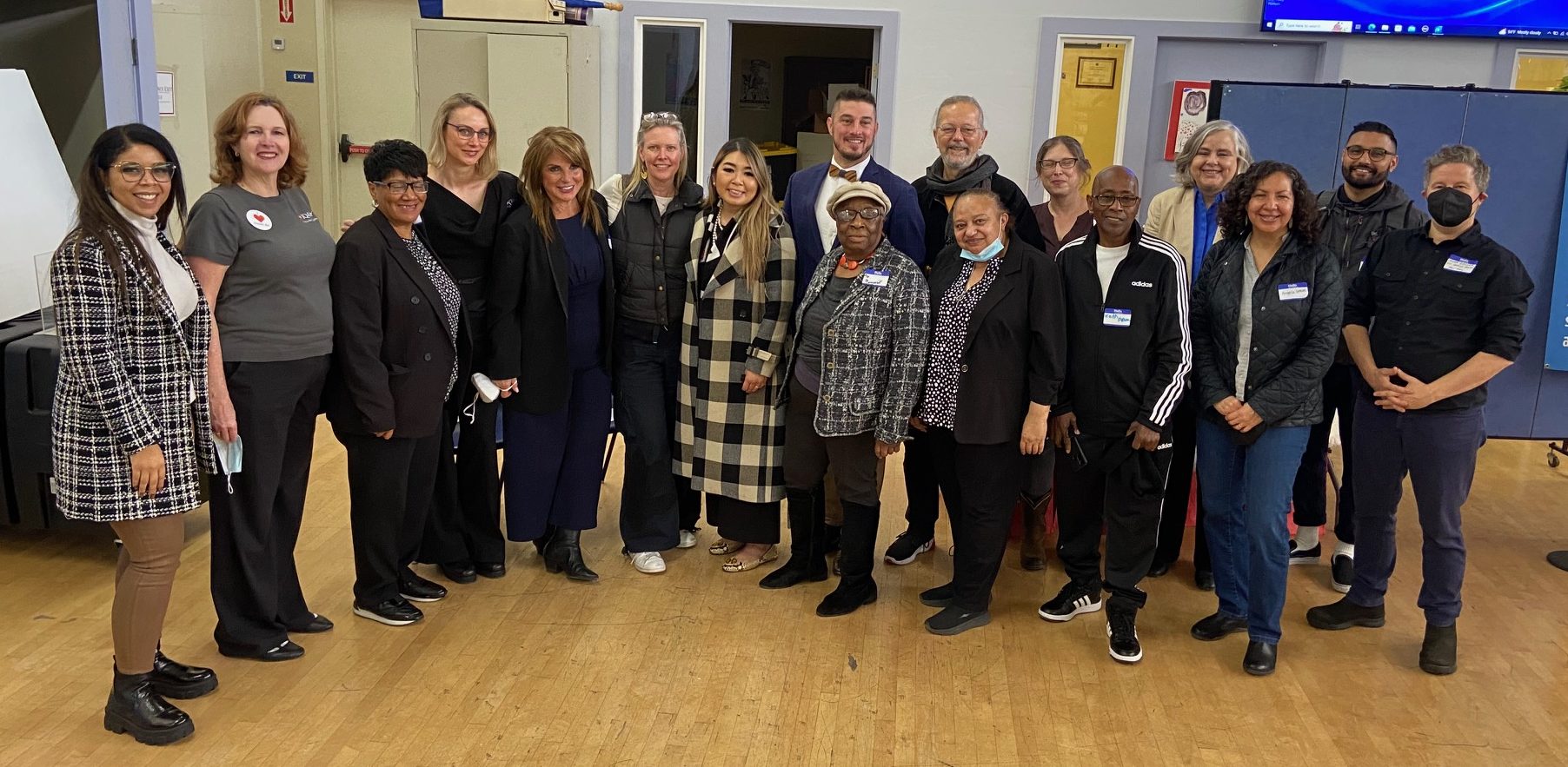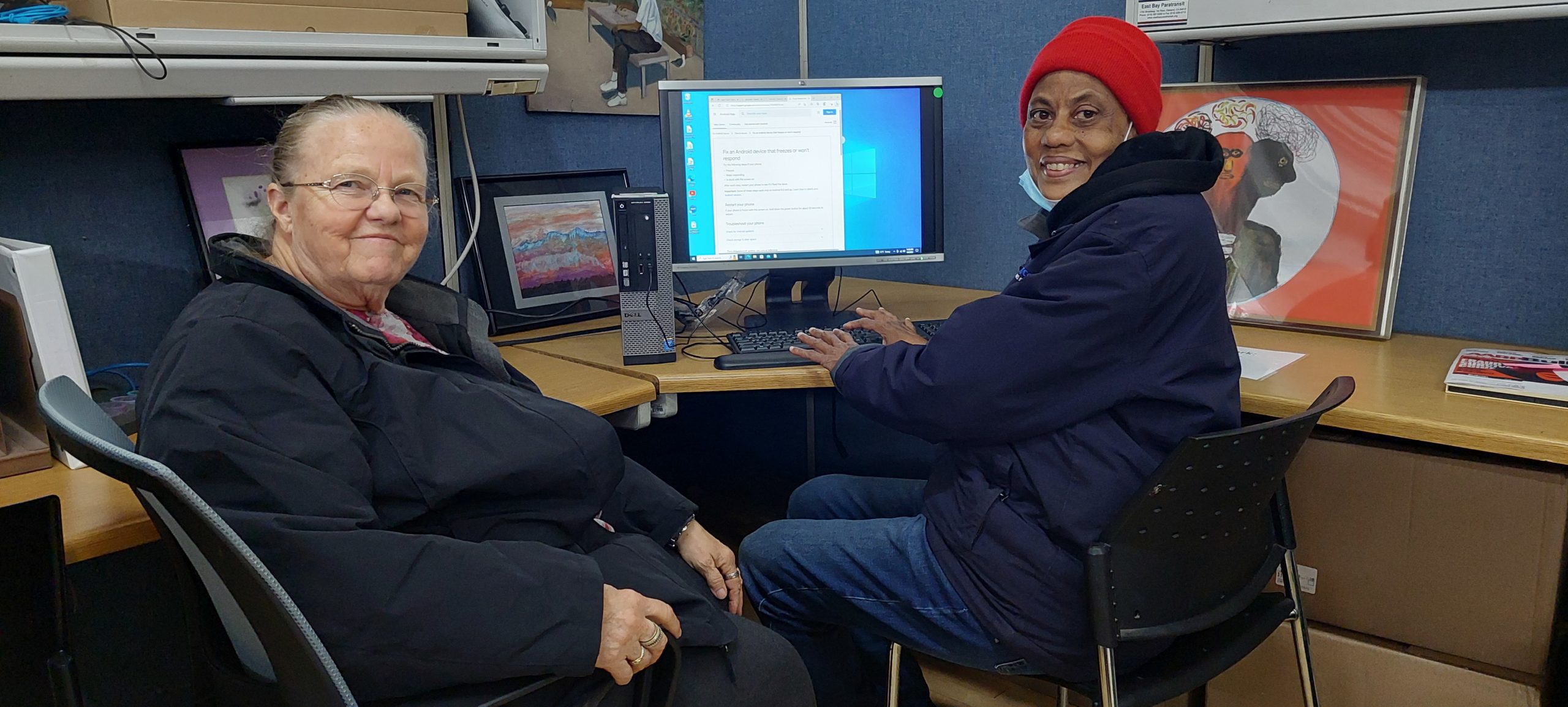 Over the last year, our initiative to bridge the digital divide for Seniors evolved in partnership with United Seniors of Oakland and Alameda County and the Computer Technology Resource Center. The WeConnect program grew both in capacity and impact: we hired a part-time staffer, donated 20 devices to Seniors, and facilitated 60 lessons in digital literacy. The program also moved into a new phase to focus services on Seniors with the least technological experience and the most significant learning barriers.
In July 2022, Wanda Remmers Meyers was hired to staff the program. Wanda has served as both a social worker and shelter staffer at St Mary's Center. A senior herself, Wanda manages the WeConnect program with a deep level of authenticity, adapting the curriculum and the devices to the needs of each Senior. Her personalized lessons respond to the complicated spectrum of learning styles associated with aging, reducing isolation while connecting seniors to social activities, family, and educational and health resources.
The Computer Technology and Resource Center donated 24 computers to the We Connect program. In December 2022, CTRC began donating desktops with the Windows operating system, a big change from the Xubuntu system that had been installed on their computers since the agency opened in the '70s.
WeConnect became a pipeline for a wonderful State funded program called CHAS (Connections, Health, Aging and Technology). Through the CHAS referral process, Seniors aged 60 and older receive new tablets with free Internet service for a limited time. As of May 2023, the program has donated nine (9) tablets to happy Seniors. All seniors received free personalized digital literacy lessons.
St. Mary's Center's WeConnect program is currently seeking funding to expand the program to provide devices and training to even more extremely low-income Seniors.
Preschool Director Quinetta Lewis
Brittany Cleghorn, Quinetta Lewis, Sharon Cornu, Cara Granger, Ronald Batiste, Miguel Prieto celebrate state funding of Preschool repairs.
In the Summer of 2022, St. Mary's Center received a grant from the California Department of Social Services for $250,000 to fund preschool upgrades including a new roof, HVAC system, upgraded electrical and smoke detector system, and ADA compliant ramps at both the front and back entrances. To carry out these upgrades, St. Mary's Center has partnered with a certified local business, Eagle Environmental Construction. "We are thrilled to be building a relationship with this local minority business construction company," says St. Mary's Center Operations Manager Cara Granger. "Especially because their bid was competitive, and their work is good." Construction on the preschool began in April of 2023 and is expected to be completed by August of 2023.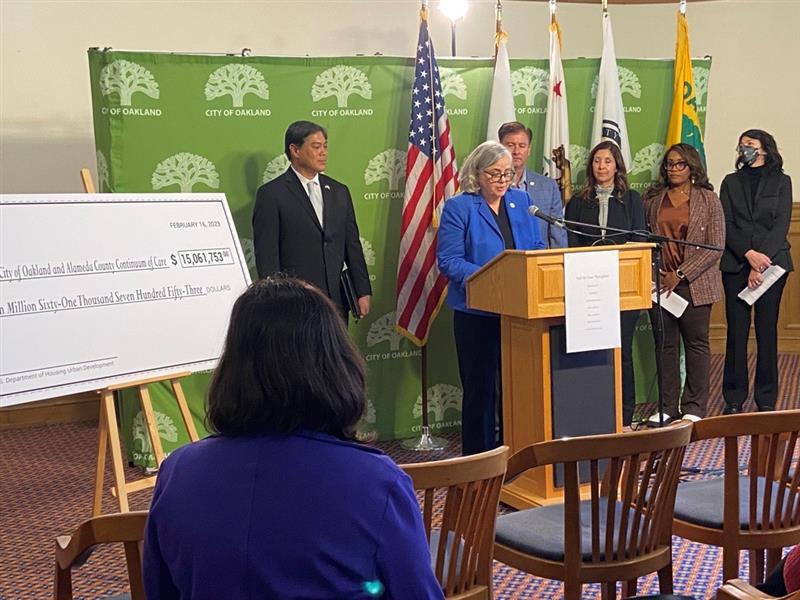 St. Mary's Center was one of two Northern Californian nonprofits awarded in the first round of the national U.S. HUD special competition. This is an exciting opportunity in line with our 2025 strategic plan to create housing and learning opportunities for Seniors. The funding will help support our Neighbor-to-Neighbor Street Outreach project which will train Seniors with lived experience of homelessness to help reach other Seniors living in encampments.
The goal of the program is to recruit, train, and enroll them in Berkeley City College to begin the process of certification as a Community Health Worker. Once they complete their training, the participants will do street outreach to homeless Seniors and support them in enrolling in SMC programs. Because of their experience and training, we expect the Seniors will be able to build strong relationships and support their fellow Seniors throughout the process.
"These are people who have given up hope. To have the community come in and offer resources and services makes a world of difference," said Clinical Director Letteria Fletcher. "Most of the Seniors we encountered during our street outreach have now been permanently housed."
This program is a step forward in our Strategic Plan ("Vision 2025: From Charity to Justice") to explore workforce development strategies that reflect our Seniors' strengths and knowledge while protecting their benefits and housing.
In June, St. Mary's Center's hosted our second annual Membership Meeting in the Community Center. The meeting's purpose is to reregister members for various programs, share a report with Seniors, and vote on what priorities they would like to be the focus of the upcoming year. Council members Maria Fontez, Jesse Williams, and Keith Arivnwine took turns speaking to the audience of 67 Seniors.
Afterwards, Council of Elders Vice President Anne Bradley led a vote on program priorities for the 2023-2024 year. Results of the membership vote can be seen in the chart below.
Director of Contracts and Data Tucker Brofft presented the following data to the Seniors:
134 Seniors in Four Years